Rancho Cucamonga Sealcoating Company
­­­­­­­­­­Don't let your Rancho Cucamonga parking lot or driveway deteriorate! Proper maintenance can extend the life of these surfaces by up to three times. It's not just about curb appeal, it also saves you thousands in repair costs over time. Sealcoating should be a part of your asphalt maintenance plans.
Prime Asphalt Services is a family owned and operated sealcoating contractor that has been in business for over 20 years. We have experience servicing residential and commercial customers, and offer driveway sealcoating as well as parking lot sealcoating in Rancho Cucamonga. Our goal is to provide you with premium quality work that will last for years!
Residential Sealcoating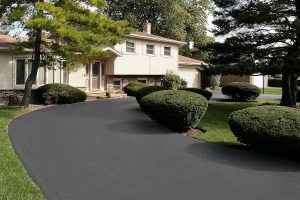 The best way to maximize the life and durability of your asphalt driveway is to sealcoat it. At Prime Asphalt we are experts in driveway sealcoating and repairing driveways. We have been sealcoating driveways in Rancho Cucamonga for over 20 years. We have vast experience with this process so you can rely on us when it's time for first-class sealcoating or repair. We have vast experience with this process so you can rely on us when it's time for first-class sealcoating or repair.
After we have coated your driveway, you can expect your driveway to look brand new and your home will have an enhanced curb appeal. We use premium sealant that bonds with asphalt and provides a rich, black color.
Commercial Sealcoating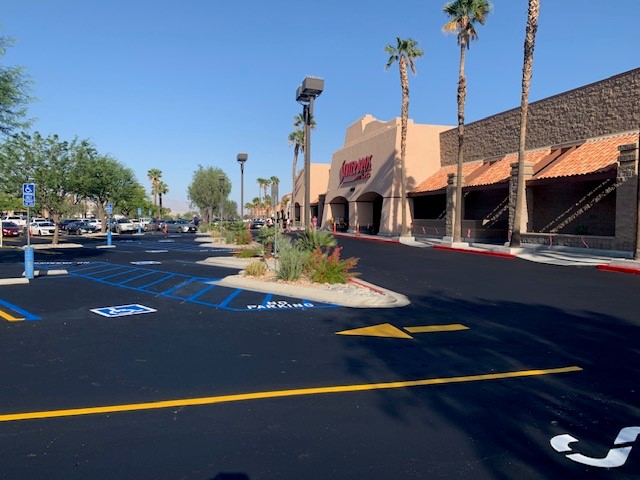 As a business owner, it's important that your property looks as good as possible. It's crucial that your facilities make a good first impression on potential paying customers. Regardless of the property type, one of the first elements that people see or notice is the state of your parking lot. As parking lot sealcoating contractor in Rancho Cucamonga, we understand the significant role that your paved surfaces play in the overall visual appeal and safety rating of your property.
Additionally, we understand that keeping your parking lot accessible to customers and employees is essential to your company's success. We will work together with to schedule the work to minimize the downtime of your lot. We can work weekends, nights or seal coat your parking lot in phases.
What is Sealcoating and Why Should I do it?
Asphalt is made up of primarily sand, aggregate (small, uniformed rocks) and bitumen. Bitumen is the binder that holds together sand and aggregate creating a hard surface. Bitumen is made primarily from petroleum-based products. Once asphalt is laid it starts to oxidize. As the asphalt oxidizes it turns from the dark lack to a light gray. More importantly, asphalt loses its flexibility because of oxidation. When asphalt is no longer flexible, it will start to crack, letting water enter into the base material, which becomes a larger problem.
Sealcoating, provides a protective layer of the asphalt, slowing down the oxidation process, keeping the asphalt pliable and less likely to crack. Additionally, sealcoating will fill in small hairline cracks and surface voids helping extend the life of your asphalt surface.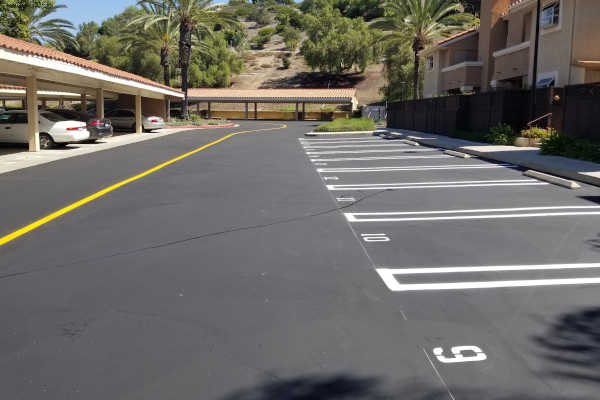 Common Seal Coating Questions
How Much Does Sealcoating Cost in Rancho Cucamonga?
Since every driveway and parking lots are different sizes and the condition of the asphalt varies there is no easy way to answer this.
How often do I need to coat my asphalt?
We recommend every 2-3 years. A high-volume parking lot will need to be coat more frequently than a driveway.
Will You Repair Cracks and any damage in my parking lot or driveway?
Yes we will seal cracks. If there are issues which crack sealer and sealcoating will not fix, we will point these out to you during estimate process.
Can you stipe our parking lot once you have seal coated?
Yes, we offer parking lot striping as an additional service. Please see our parking lot striping page for more details.
How long will it take to seal coat my asphalt?
Driveway sealcoating typically can be completed in a day. While we can complete most parking lots in one day, there are times will sealcoat the parking in phases, to keep your parking lot functioning.
Should I have my new parking lot or driveway seal coated?
No. We recommend you wait at least 6 months but no longer than 24 months to have our asphalt sealed.
If you need driveway or parking lot sealcoating in Rancho Cucamonga then we are the company for you. Please contact us for a free no obligation estimate.