Parking lots at commercial properties do much more than simply offer a place to leave vehicles. Parking lots and paved walkways can create first impressions, impact curb appeal, and even contribute to—or detract from—property values. Beyond that, parking lots can also be sources of liability for property owners or businesses if they fail to keep up these spaces.
At Prime Asphalt, our 5-star crews have more than 30 years of industry and local experience. Highly skilled and outfitted with the most advanced equipment, our team can handle all of your commercial paving needs with expertise, efficiency, and ease, leaving you with beautiful, durable, and lasting results.
New Commercial Parking Lots
Paving new parking lots can require excavation and grading, as well as thoughtful planning for key issues, like (but not limited to):
Entrances and exits from surrounding roadways
The flow of traffic within parking lots
Foot traffic, crosswalks, and special zones (like loading zones)
Drainage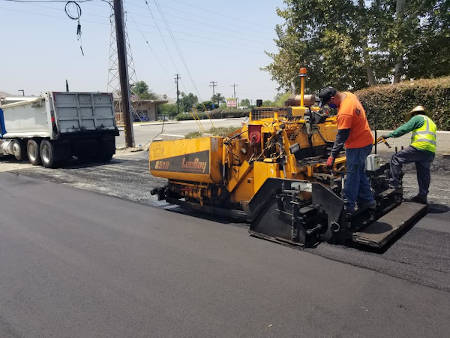 All of these design issues will hinge on factors like intended use, exposure to the elements, and expected traffic through the area. The team at Prime Asphalt can account for all critical planning issues while carrying out every aspect of new pavement and asphalt construction with proficiency and exceptional competence.
Tear Outs & Driveway Replacement
When your parking lot has outlived its shelf life or when severe damage means repairs just won't cut it, asphalt removals and replacement can be the best option. At Prime Asphalt, we can inspect your commercial pavement and give you honest answers about whether repairs or replacement is a better investment.
If it is necessary to tear out and replace existing asphalt or commercial driveways, our contractors will:
Remove part or all of the old or damaged pavement
Identify any subgrade issues that should be addressed, like shallow utility lines, use of improper base materials, and/or excessive moisture
Then, we will recommend the best options for replacement, providing a timeline and detailed plan for your commercial paving project.
Overlays
Laying down 1 to 3 inches of new asphalt over an existing layer can extend the life of your parking lot. This can be a good option when damage doesn't extend to the subgrade.
With overlays, there is often a need to clean and/or mill the existing pavement before "tack" (to promote adhesion) and the overlaid asphalt are applied.
Why Choose Prime Asphalt for Commercial Paving Services?
Choose Prime Asphalt because you want gorgeous asphalt work from Phoenix's most trusted asphalt contractor. Contact us today to find out why we have been a leader in commercial paving for more than three decades.
Call 951-760-0771 or contact us online for a FREE quote for commercial asphalt and paving services in Phoenix, AZ.