Traffic, weather, and more can damage any commercial parking lot. Although commercial paving can last decades, it will become an eyesore, creating risks of more damage and even accidents, without the proper maintenance. Sealcoating is one form of maintenance that can maximize the life span of commercial parking lots.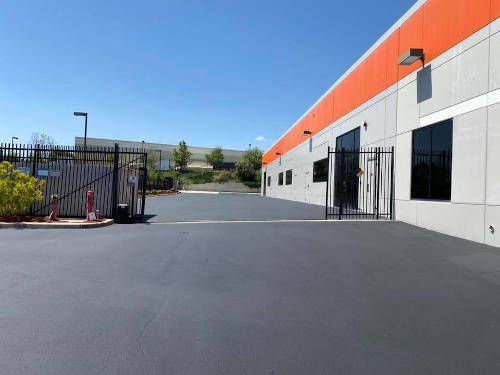 With commercial sealcoating from Prime Asphalt, you can keep parking lots, add-ons, and surrounding walkways in prime condition. That will not only keep your commercial property looking great, but it can also limit potential liability while preserving property values and protecting your investment.
At Prime Asphalt, we have more than three decades of local and industry experience. We are known for excellence, integrity, value, and superior craftsmanship. That's why we are a top commercial sealcoating contractor throughout Phoenix, AZ. It's also why we have so many great reviews, returning clients, and referrals.
Why Should I Sealcoat My Parking Lot?
Sealcoating can be a great solution for smaller cracks that develop as asphalt oxidizes and becomes brittle. Before these cracks extend to the subgrade, sealcoating can fill them in, preventing the cracks from spreading while keeping water, chemicals, and other damaging elements out.
That makes commercial sealcoating a highly effective way to maximize the life span of parking lots. Beyond that, commercial sealing will also:
Improve the appearance of lots and the buildings they sit by
Make it easier to sweep and clean commercial parking lots
Prevent or put off the need for more expensive repairs or even pavement tear-outs and replacement
How Often Do Commercial Lots Require Sealcoating?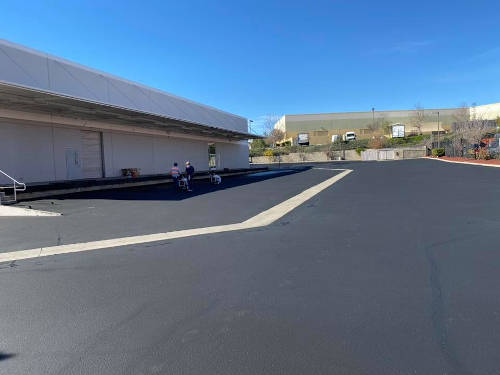 In general, sealcoating should be done every couple of years, starting about 12 to 24 months after new construction. You want to wait about a year after newly paving parking lots before installing the sealcoating in order to let the oils from the asphalt set and cure properly. Applying a sealcoating to pavement too early can backfire in terms of the intended effect—it can end up making the underlying pavement more susceptible to cracking if the asphalt oils haven't properly cured first.
Once it is time for sealcoating, routine applications as part of regular parking lot maintenance can keep lots in good condition. In some cases, like situations in which commercial lots see heavy traffic and/or near-constant exposure to the elements, sealcoating may need to be done more often than every 2 to 3 years.
How Soon Can I Use My Lot After Commercial Sealcoating?
Within about 24 hours, you can walk on new sealcoating. Within about 2 to 3 days, vehicles can be driven over new sealcoating on parking lots. If there are different timelines for using your parking lot after a sealcoating project, our team will share them with you so you can take the proper steps after the job to protect the work and reopen the lot for use.
Why Choose Prime Asphalt for Commercial Sealcoating Services?
Choose Prime Asphalt because you want reliable, expert paving contractor who will get the job done right the first time! Contact us today to find out why we have been a leader in commercial paving and sealcoating for more than 20 years.
Call 951-760-0771 or contact us online for a FREE quote for commercial sealcoating service in Phoenix, AZ.