The parking lots at commercial properties can last decades, handling lots of traffic while standing up to the elements. As durable as they are, parking lots can suffer fading, cracks, and other damage with normal wear and tear and near-constant exposure.
You can prevent these types of minor issues from causing deeper, more costly damage by getting routine parking lot maintenance. At Prime Asphalt, we have more than 30 years' experience providing parking lot maintenance service throughout the Phoenix area. We are efficient and skilled at maintaining all types of commercial parking lots, and you can always count on our team to get the job done right the first time while leaving you with gorgeous results!
Commercial Crack Sealing & Sealcoating
Asphalt naturally can weaken over time as oxidation occurs. While that can cause cracking, so too can unstable subgrades, patch failures, swelling, and other distress. Whenever commercial parking lot cracks start to form, they won't go away on their own. They will only grow and continue to create more exposure to water and/or chemicals.
Depending on the size and extent of cracking, crack sealing and/or sealcoating can be an ideal solution. Crack sealing is typically used to fill in cracks that do not extend to the subgrade. If needed, it will be completed before sealcoating is installed.
Parking Lot Striping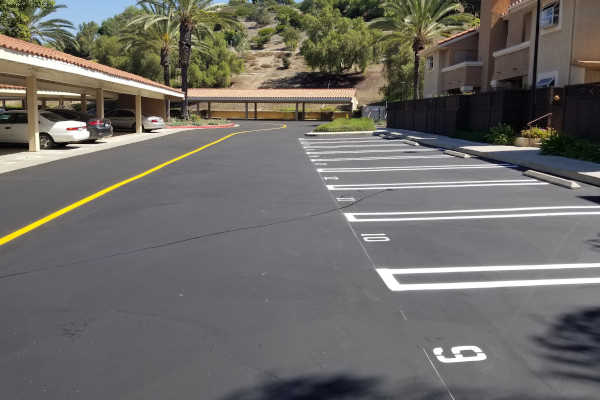 Faded or absent striping can cause confusion, traffic jams, and potential hazards. There can also be major issues and steep fines if parking lots don't have striping to clearly demarcates handicap stalls and/or if they do not have the proper number of handicap stalls (based on how many standard parking stalls the lot has). In other words, striping can be necessary for compliance with federal ADA requirements for commercial parking lots.
With fresh parking lot striping, a property's guests can easily navigate the lot, finding entrances/exits, parking areas, and more. While striping can make lots as easy to use as they are easy on the eyes, this type of maintenance is also essential to the overall safety of a commercial parking lot and compliance with federal ADA regulations.
Parking Block & Bollard Installation & Post Replacement
Like striping, parking blocks and bollards can be important safety features in commercial lots. While parking blocks can be visual signals for drivers and provide protection to pedestrians, parking bollards can safeguard or demarcate other important features around a property, like fire hydrants or loading dock entrances.
Commercial Parking Lot Repairs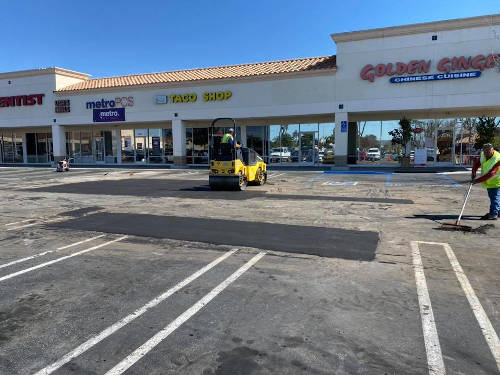 Parking lot maintenance can go a long way toward keeping lots in good condition and putting off the need for extensive pothole repair or even tear-outs and replacements.
Whenever maintenance is not enough to restore the look, functionality, and/or safety of a commercial parking lot, repairs may be necessary—and the team at Prime Asphalt can handle the job for you. Our parking lot maintenance contractors will explain when repairs are necessary, providing clear answers, upfront quotes, and first-class service scheduled whenever is convenient for you.
Plus, we always use the best materials and equipment, getting the job done on time, within budget, and with beautiful results! That can give you the ultimate peace of mind that your commercial parking lot is in good hands with Prime Asphalt.
Why Choose Prime Asphalt for Commercial Parking Lot Maintenance in Phoenix?
Choose Prime Asphalt because you want a beautiful new asphalt parking lot from Phoenix's most trusted paving contractors. Contact us today to find out why we have been a leader in commercial paving for more than two decades.
Call 951-760-0771 or contact us online for a FREE quote for commercial parking lot maintenance in Phoenix, AZ.