The striping and markings on commercial parking lots help drivers and pedestrians safely navigate those lots. These features are also essential to keeping commercial parking lots ADA-compliant (violating federal ADA requirements can bring expensive fines).
Whenever striping and markings have faded or they are missing altogether, traffic and all sorts of hazards can follow. This can also create compliance and liability issues. All of that can be solved with clear markings and striping. In fact, a clearly marked commercial parking lot will be safer and look nice while having optimal functionality. It can also be in full compliance with all local, state, and federal laws.
At Prime Asphalt, we have more than 20 years' experience in marking and striping commercial parking lots throughout Phoenix. From striping design to restriping, our 5-star contractors do it all, using the best materials, equipment, and practices to deliver beautiful results with every job.
What Do I Need to Consider When Striping & Marking My Lot for the First Time?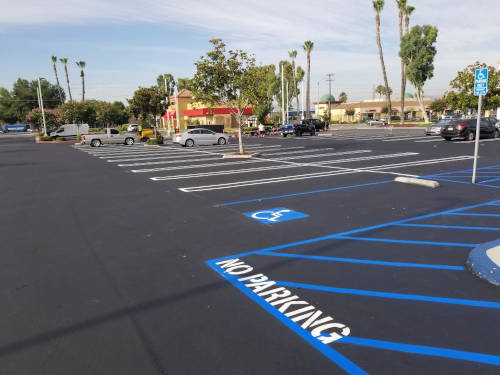 Whether a lot has been newly constructed or replaced, markings will define the layout and flow of traffic. As such, many factors need to be considered to develop a thoughtful, safe design for striping and markings. Some of these factors include:
The angle of the parking spaces: Straight-in parking stalls can be good in areas with two-way traffic. Tighter areas may be better suited for angled stalls.


Entrances and exits: This includes the entrances/exits to both the surrounding roads and any building(s) on the property. It informs the flow of both pedestrian and vehicle traffic.
ADA requirements: All commercial lots must have a certain number of disabled parking spots. The number depends on how many regular parking stalls a lot has.
At Prime Asphalt, we are highly skilled at creating effective markings and striping for commercial lots. We work closely with property owners, builders, and others to develop the best striping plans that will keep parking lots safe, functional, compliant, and attractive.
How Long Does Striping Take to Dry?
The materials and weather will affect the drying time for striping paint. While minimal light and cold temperature can increase the time it takes for new parking lot striping to dry, generally, waterborne paint takes around 4 hours to cure. In these cases, driving can occur on newly striped lots after about an hour. The project foreman will explain what to expect and how long you should allow striping to dry, based on the specifics of your project.
How Often Do I Need to Restripe My Commercial Parking Lot?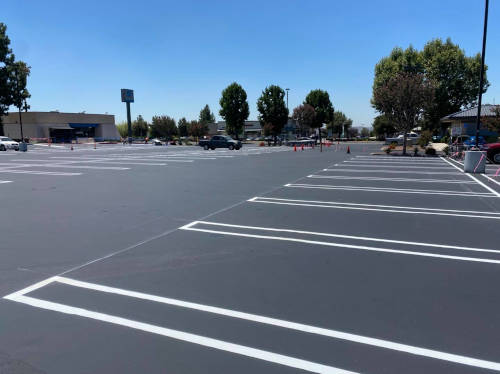 The amount of traffic your parking lot receives, as well as its level of exposure to the elements, will affect how long striping lasts. Typically, striping will fade faster in parking lots that see lots of traffic, sun exposure, and/or exposure to snow and deicer salt. In these cases, it may be necessary to refresh the striping and markings in a parking lot every year.
Unlike other types of parking lot issues, striping and fading are very easy to see. So, it's usually recommended that restriping occur whenever the existing markings are deteriorating.
Why Choose Prime Asphalt for Commercial Paving & Striping Services?
Choose Prime Asphalt because you want top-notch asphalt contractor to get the job done correctly and efficiently the first time! As one of Phoenix's most trusted commercial asphalt contractors, we can expertly handle all of your commercial asphalt and pavement needs. Contact us today to find out why we have been a leading commercial paving company in Phoenix for more than two decades.
Call 951-760-0771 or contact us online for a FREE quote for commercial striping and pavement services in Phoenix, AZ.